Joe and Anat Silvera are metalsmiths and teachers in Berkeley, CA. Joe is the author of Soldering Made Simple: Easy Techniques for Kitchen Table Jewelers (link: books & dvds in shop online section). They teach around the Bay Area, and at bead shops and festivals around the country, including Bead and Button and Bead Fest. They specialize in teaching home friendly metalsmithing techniques for jewelry designers, beadworkers and hobbyists.
SILVERA JEWELRY SCHOOL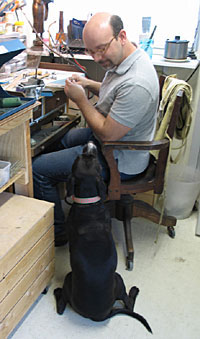 Our small school for jewelry is located in Berkeley, Ca in the ActivSpace Building. We offer evening, one day and multi-day workshops in metalsmithing techniques, like soldering, stone setting, enameling and lost wax casting.
Classes are held at either the Berkeley or San Rafael locations of Baubles and Beads, our studio classroom, or at festivals around the country. Class sizes are small: 6-8 students at our studio, 8-10 students at Baubles and Beads, and up to 22 students at other stores and festivals. Wherever we teach, we emphasize good, safe technique, and clear presentation of the subject. We use video cameras to project and magnify the live demonstrations on a tv screen so that all the students get up close and detailed views of the process. This increases understanding and helps students to successfully learn and practice their new skills more quickly. Anat and I are there, in the classroom, every minute of the workshop, observing, and helping with hands-on tips and tricks to rapidly advance your learning of these new skills.
Since our classes use affordable, accessible and home friendly equipment like cooking torches and almost dust free abrasives, students can practice what they learn at home immediately. Our studio classroom is fully equipped with jewelry benches and tools for each student, so students can arrive and start to work without the expense or hassle of buying or transporting their own equipment. If they like what they learn, we offer our students a great discount on quality tools by EuroTool (link: shop online), which we sell online and at our studio.
ANAT SILVERA
Anat Silvera has loved jewelry since she was a little girl in Los Angeles. Before and after college she studied with artists and craftsmen, apprenticing as a metalsmith and learning how to create fine beadwork. Anat has exhibited and sold her work all over the U.S., including an exhibit as a featured artist at the Oakland Museum of Art Collector's Gallery. She has taught jewelry in the Bay Area for years. Her classes are known for their thorough and patient demonstrations of good technique. Anat teaches classes at Baubles and Beads in Berkeley and San Rafael, at stores and festivals around the country with Joe, and at our studio in Berkeley. She teaches beadwork, wirework, enameling, metalsmithing and more!
Joe Silvera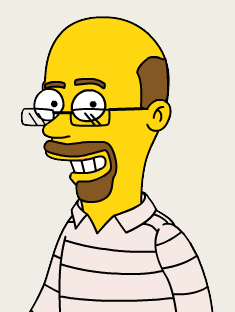 I am a metalsmith, wax carver, and jewelry teacher. Writing a bio about myself seems like a perfect time to try to make sense of the crooked road that led me to here and now.
Education
After wandering around California State University at Long Beach as a general arts major, taking painting, sculpture and illustration classes, I tried a jewelry class, because my college roommate showed me his samples from his class. I loved it immediately, because I could bring everything from my fine arts background to jewelry. Also, the undergraduate major was small, and we worked side by side with the graduate students, which gave me a chance to observe some great metalsmiths. My teachers were Al Pine, and Dieter Muller-Stach, a pair of fantastic teachers who exposed students like myself to a wide range of techniques, including silversmithing, blacksmithing, jewelry, and casting. I thought about going to graduate school after getting my BFA in metalsmithing, but I didn't think at the time that I wanted to teach or go deeper into the artistic side of jewelry. I wanted to know how to make more wearable, sellable jewelry - more about the craft. You know, in an art program, it's okay to make a broach that's big enough and heavy enough to rip the shirt off your body. It makes a great statement. But in the real world, there are few buyers for that kind of work.
Watch a Free Video Bio About Joe Silvera
Apprenticeship
I found a job at a jewelry shop called McCloud's Ringworks, in San Pedro, as a bench jeweler. I think Al helped me find that job. I won't lie about it, working as a bench jeweler, doing production work and repair jobs like sizing rings and setting stones, was not my fantasy life. Setting those tiny diamonds was enough to give me tics. But I put in my time, learned a lot about goldsmithing, and even managed to get a second job working for a local jeweler who subcontracted repair work for other shops. I'm ashamed to say I can't remember his full name, Pat... Hmm. Part of getting older, I guess, or blocking out memories. Gary and Pat are talented jewelers and taught me a lot about effective, efficient jewelry work and what makes a good piece of well-crafted jewelry. Watching Gary and his son, Chris, carve wax helped me to decide to specialize in lost wax casting. I liked the flexibility of the wax, how you could build up a form and carve it back. And it tickled my old love for sculpture, carving animals like frogs, rabbits, and such. With their help, I learned more about commercial equipment for casting in a small shop, waxes, tools and working with customers.
Career
A few years later, I found myself with an offer from a big jewelry company in L.A. For some reason, after an interview, they were willing to give me a chance and started giving me jobs to make wax models for their company. It was a get paid while you learn kind of experience. And I learned a lot about making models quickly - fast enough to pay the bills and be able to quit my job as a bench jeweler. I worked my contract jobs for this company, and I put out my shingle as a model maker, taking in jobs to make original prototypes for other jewelry companies. Life as a model maker is like being a ghost writer, I imagine. You're handed a sketch by the designer, sometimes a few lines on a napkin, and off you go to make something wonderful of it. Later on, as far as the rest of the world is concerned, you are the invisible hands behind the craft, no credit on the billing.
I like as much recognition for my work as the next guy, so I started designing and carving jewelry for myself. I worked the galleries, shops, and craft shows, selling as much as I could. I had the dubious luck of starting my business during the reign of George Bush I, with all the glorious rewards of the first Bush-Recession. It was a hard time, but working during lean times teaches you a lot about cutting expenses, marketing for next to nothing, and maximizing your earnings. I peddled my jewelry with motifs like butterflies, bees, ladybugs, frogs, rabbits, cats and dogs for years. And I did what a lot of artists do to survive - I took in side jobs, like making wax models, and helping other artists with their businesses - a lot of artists can't stand the computer. It takes time away from good things, like your art. So I would handle the non-glamorous work, like creating a tidy database and making sense of their accounting programs. I was lucky to work with lots of great artists and it helped me to observe how others worked. Not many people are trusted enough to get the kind of inside information that I had access to on the job. I've always kept the details secret, but I learned a lot by being so close to other artists.
Marriage, A Year in Europe, and Back Again
Later, I moved north, to Oakland, California. I had grown up in San Jose, long enough to not want to go back there. And although I liked southern California, I missed the golden hills of the north. It's just not the same California beneath the palm trees in Long Beach. I was still working on my jewelry and looking for opportunities when I met my wife, Anat. We hit it off straight away - we met at an open studio sale where we were both selling. Within a few short years we had moved in together, married, and even lived for awhile in France. When we came back to California, we settled near my family in Lake County. My mother and aunt had relocated during our sabbatical, and offered us a place to stay. What can I say? Lake County may be two hours north of San Francisco and isolated, but the open waters of Clear Lake make for gorgeous kayaking and bird watching, and the valley rolls with vineyards and orchards. Life is agreeable, the highways are scenic, and the parking is free. Life is a little easier here as an artist than in the city. Anat and I taught metalsmithing classes, and we thought about our future.
Our Bead Store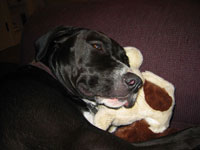 A few years later, we decided to open a store in our adopted town of Kelseyville. The main street was charming, with everything in walking distance - cafe, grill, bistro, wine tasting rooms, computer store, hardware store, doctors, dentists - and our bead and yarn store, Perlz. With help from our friends, we studied and researched and made a pretty nice space in our little town, sort of a clean, well-lit home for beadworkers and knitters. Anat taught me a lot about teaching workshops, since she had taught for years, and we taught classes at our store. Together we still metalsmithing and beadwork classes, and when we had the shop we had great guest instructors to teach some as well, plus workshops in knitting, glasswork, and Precious Metal Clay. I took over teaching our workshops in Berkeley and San Rafael at Baubles and Beads. With a little patience and encouragement, we like to think that we helped to support the joy of craft and jewelry for our students and customers in Lake County. Unfortunately, with the downturn in the economy and hard-times in the rural wine country around our shop, we could no longer support the shop and we had to close in October 2010.
A New Beginning, A New School in Berkeley
But life and jewelry go on, and we're setting up a new metalsmithing studio and classroom in Berkeley, Ca. in a great building full of other artists. Be sure to sign up for our newsletter to receive updates about new classes and events. The new space is in a great area, close to hotels, cafes, restaurants and lots more.