Silvera Jewelry School began in Berkeley, CA in 2010 and was started by Anat and Joe Silvera, both professional jewelers and artists. They began as traveling teachers in 2002, started teaching workshops in their own space in 2005 and then moved to the Bay Area in 2010. From the start, Anat and Joe dreamed of having their own space to teach, to create a clean, well organized, and welcoming school for their students. 12 years later, the school has grown into a well known hub for the jewelry community, with veteran instructors, a classroom full of benches and jewelry tools, and a schedule bursting with workshops, including classes taught by visiting master jewelers from around the world.
In 2021, Silvera Jewelry School became a partnership, with the addition of Jenn Parnell Kirkpatrick as one of the new owners. Jenn brings more than 18 years of experience as a university instructor and her love of teaching jewelry to her classes and administration.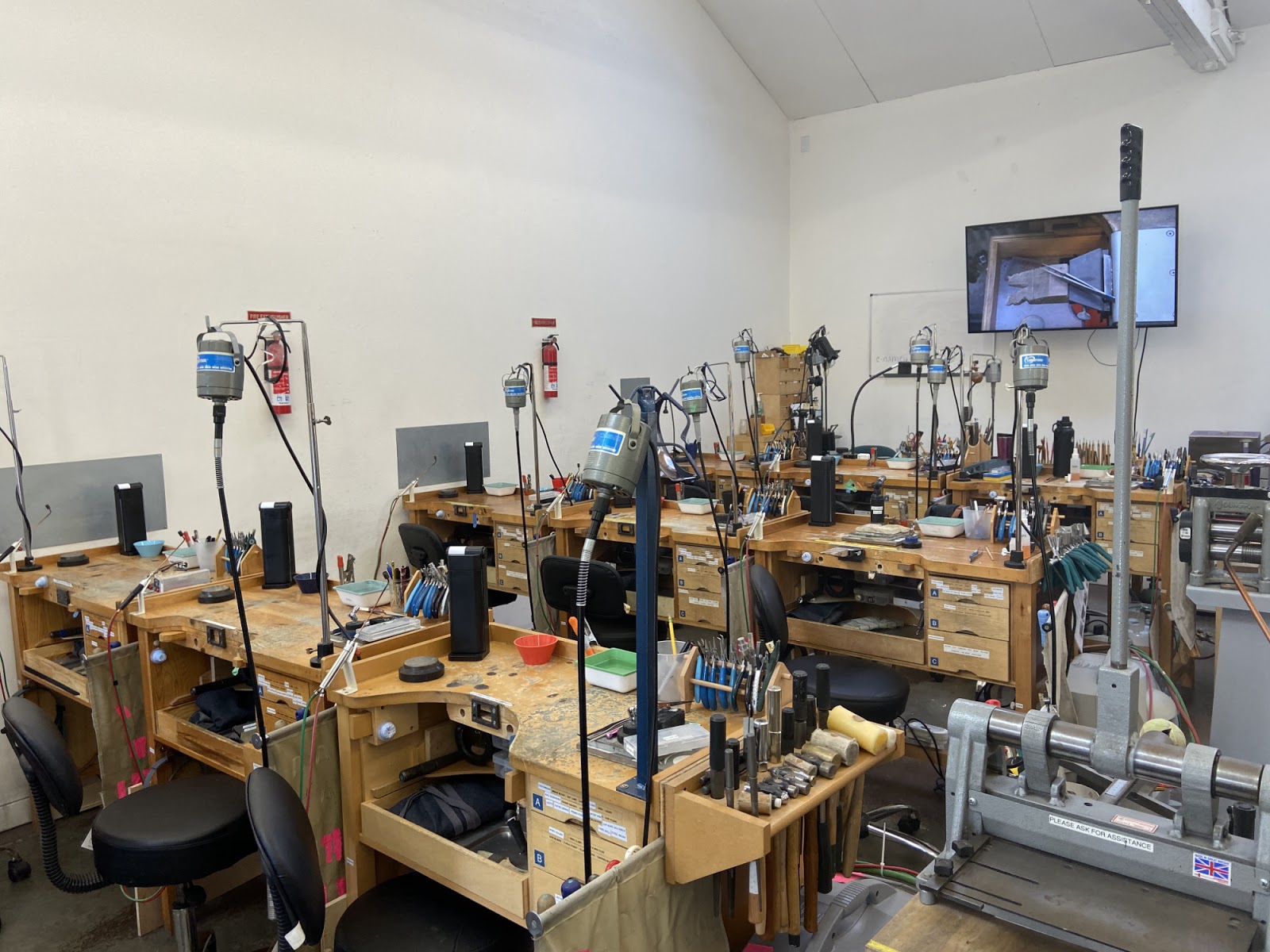 Our Mission: Great Jewelry Classes for Everyone
We want to share our passion for jewelry with our students, teach them traditional and modern techniques through great classes, and show them how they can continue to make jewelry at home.
Our teachers love their students and making jewelry. We're here to help our students make beautiful designs, to be inspired by the history of jewelry, and to find their unique style.
For Joe, Anat and Jenn, this has always been at the core of their teaching style. They have earned a reputation for friendly and patient instruction, and classes filled to the brim and beyond with information. Their classes have always been known for clear explanations, well organized classrooms, and hands on demonstrations of techniques, supplemented by thorough handouts. This continues to be our standard for all classes and instructors at Silvera Jewelry School. We pick our teachers for their similar teaching philosophy, their patience and love for the craft, and their ability to teach and inspire. It has been a great joy to see so many of their students go on to embrace jewelry, whether they started their own jewelry businesses, found happiness in their studios making jewelry for loved ones, or pursued careers in the trade.
Now we offer our workshops in your studio! It's been a labor of love, but it's also been a joy to teach students online, in addition to our in person workshops. Even outside our classroom, streaming in the homes of students around the world, our online classes share the same reputation for live demonstrations, easy interaction with instructors, and lots of great demonstrations.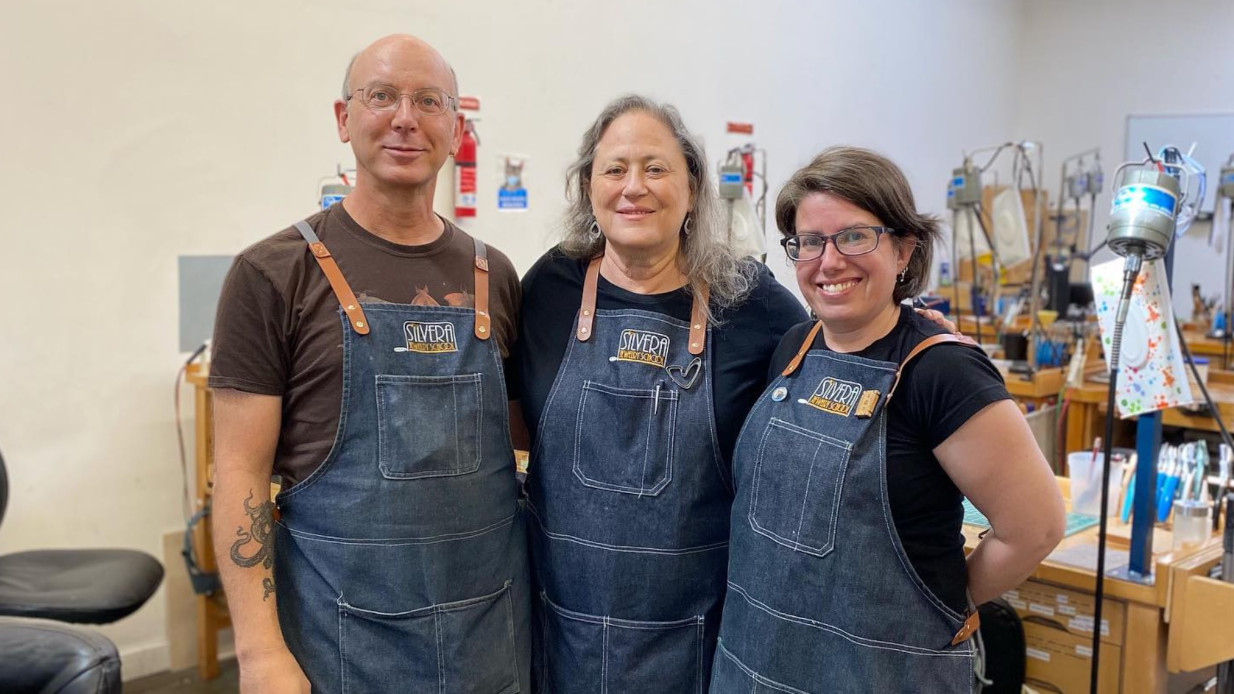 Owners and teachers: Joe Silvera, Anat Silvera and Jenn Parnell Kirkpatrick
About the Instructors
We have a staff of local instructors and we also bring in great guest instructors. Faculty instructors include Anat Silvera (enameling, jewelry fabrication, surfaces and texture), Joe Silvera (jewelry fabrication, casting, stone setting), Jenn Parnell Kirkpatrick (enameling, jewelry fabrication, jewelry history + techniques, stone setting, surfaces and textures), and Arlene Mornick (metal clay). Check out our calendar of classes for the latest classes and dates offered.
Joe Silvera graduated from California State University at Long Beach with a BFA in Jewelry, and then apprenticed in the jewelry industry in production, repair, and as a model maker for lost wax casting. He has been teaching for over 20 years.
Anat Silvera has a masters in folklore from UC Berkeley and has studied with jewelers since she was 11 years old. Her work has been shown in galleries and sold all across the United States. She has been teaching jewelry for over 30 years.
Arlene Mornick is currently one of 9 Master Instructors for Art Clay World and a certified instructor with precious metal clay. When she arrived, she was an instant hit with students and a great match for the school. Her classes are organized, cover fantastic metal clay techniques, from basic to advanced, and are great fun.
Jenn Parnell Kirkpatrick earned her BFA in jewelry from Rhode Island School of Design, and an MFA from Towson University. She has also been a great addition to our school, and brings her vast experience from teaching at the university level. Her classes mix clear presentations, humor and history to inspire young jewelers.
Our internationally recognized and talented guest jewelers and instructors include Charles Lewton-Brain, Andy Cooperman, Ronda Coryell, Bob Ebendorf, Victoria Lansford, Hratch Nargizian, Ruth Ball, Pat Nelson, Alissa Looney, Milt Fischbein, Alison Antelman, Jayne Redman, Bette Barnett, Anne Havel, Keith Lewis, Gabrielle Castonguay, Aurelie Guillaume, Tanya Crane, Eric Burris, Jan Harrell, Jeanie Pratt, Gabriel Mo, Kat Cole, and Martha Banyas - plus many more.

About the School
Silvera Jewelry School is located in world famous Berkeley, California, home of good food and art and a history of activism and embracing individuality. People in Berkeley are known for being open and welcoming, and our students from out of the area often enjoy exploring our neighborhood.
Our classroom is spacious, with an open floor plan, high ceilings and skylights. The natural light and space makes it a very pleasant environment to work in. Benches are spaced to allow for ease of movement. Tools and equipment are cleaned regularly and organized for efficient work and learning.
Students have access to individual cubbies to store their personal items during class and we have a small kitchen area. We are located in the less crowded West Berkeley area, near hotels, AirBnB rentals, shops and restaurants.
All day parking is free near school