Location
Silvera Jewelry School is at 1105 Virginia Street in Berkeley, on the corner of San Pablo Ave, just a block from Cedar Street and a few blocks north of University Ave. Our building is full of other artists, including a furniture designer and vintage shop.
There are lots of cafes near by, including Cafe Leila, La Palmita and Casa Latina. We're across the street from the Golden Bear Inn and Enterprise Rental Cars. Our building has a secure back yard area with a picnic table, and we have space inside for students to stay and eat their own lunch, if they prefer.
Free Parking
Street parking is free all day on Virginia Street and the residential streets behind us. A spot can often be found close to our front door, or just a block or 2 away.
Jewelry Benches and Tools for Students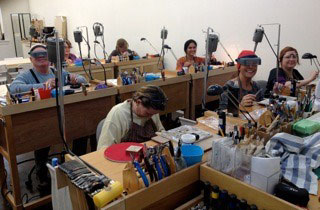 Our studio classroom is fully equipped, with jewelry benches and tools, like torches, flex shafts and more, for each student to use - no need to haul your own tools to class! Plus we have more tools to share, like polishing motors, casting equipment, etc. It's a great space to work in and the convenience of not having to pack and unpack all of your own equipment is a big plus.
Our studio classroom is spacious, with high ceilings and lots of natural light from 3 skylights. The light is wonderful and adds a lot of charm to the studio. There is a kitchen area, sofa for relaxing and tables for dining.
Adjacent to the kitchen area is our store, with tools, books and dvds for sale. We also have class samples on display and jewelry for sale. We welcome interested students to stop by and visit SJS. We're always open for classes and open mostly during business hours - we sometimes have to run errands or have private lessons in progress. We're always open during classes and by appointment.
An Emphasis on Healthy Tools and Chemicals
We teach students how to make their own jewelry, using techniques and equipment that are affordable, accessible and home studio friendly. Students include jewelers, designers, beadworkers and hobbyists - raw beginners and intermediates. Our classes and projects use culinary microbutane torches, biodegradable citric cleaning solutions, and the cleanest, least messy polishing abrasives. We have classes in jewelry fabrication, soldering, stone setting, lost wax casting and more techniques. Check out our classes and portfolio of work by our students and our instructor portfolio.
Small classes. Lots of help.
Magnified views of the demonstrations.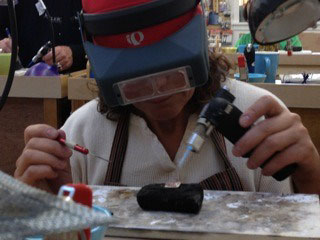 Classes at Silvera Jewelry Studio are small, 9 students max, with lots of hands-on-help and critique to accelerate your learning. Demonstrations are magnified live on a flat screen television so that everyone can see and understand the process. Imagine seeing solder flow and melt into the join in HD clarity. Sometimes the view, like the process of setting a bezel, is so clear, it's better on the screen than what even the teacher can see! That's what our magnified video learning has to offer and more.
We offer 3-hour, one, two and three day workshops for intensive learning in soldering, stone setting, enameling and lots of other metalsmithing techniques. We also offer some weekly courses, usually in the evenings. Classes are short to fit your schedule, but packed with information and techniques to maximize your learning.
Students Save on Metalsmithing Tools
All students at SJS receive a 20% discount on tools ordered online at SilveraJewelry.com or purchased in the school store, good for up to 10 days after class. Your discount code is located on your confirmation PDF emailed when you register for classes. We offer this discount to help students afford the supplies they need to continue practicing jewelry at home. Browse our selection of quality jewelry tools to compare prices and options.
Learn more in less time and practice at home.
Sign up for a class today.
Not everyone wants to become a bench jeweler, fine jeweler, stone setter, etc. Lots of students want to learn how to solder and set stones to take their jewelry to another level, to combine it with what they already know how to make, to fuel their creativity and design - to spark their passion for expression through ornament. We teach traditional techniques for well crafted, quality jewelry fabrication during our workshops. My goal is to pass on the same training I received in college programs and apprenticeships, without the pressure of certification or expectations of fine jewelry. Your work will be held up to a high standard, but this is not about repetition or mimicry.
Basic courses encourage learning the craft before focusing on design and innovation. Rather than ask students to design something before they understand the process of making jewelry, like how to saw, solder or enamel. Students follow step by step as the instructor demonstrates the techniques, creating their own variation on the project. In higher level courses and intensives, they consolidate what they've learned into their own designs. Students are encouraged to create their own variations, to take the techniques shown and to combine them with others, branch out, and create new solutions. And they are given the resources to troubleshoot problems and design challenges.