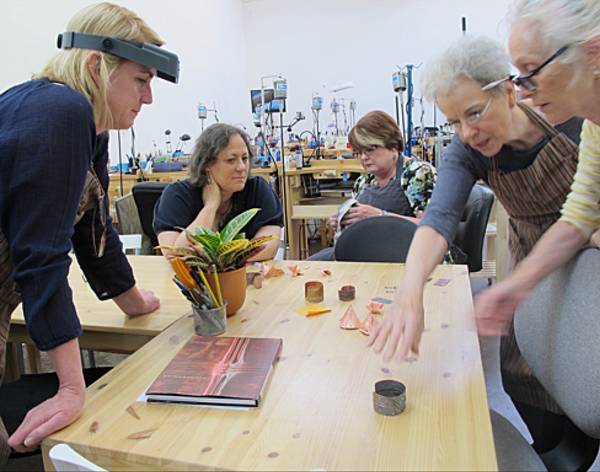 In Person Classes
Great school, I love enjoyed enamel class with Jen. She is an amazing teacher. Enamel earrings that I made in the class. I had no knowledge-of enameling after two days class I've learned so much. I thought seven hours it's a lot but did not feel the time! highly recommend this school and will take more classes in the future. - S.P., Yelp
I took an Intro to Soldering class this week at this school. It was great and the staff were so patient! Their school is immaculate and well stocked with any tool you might need. I learned a lot and made two rings. I'll be coming back with friends! - Karen L., Yelp
My only issue is I cannot figure out who I like more; Anat or Joe. They are both top notch teachers, patient, thorough and knowledgeable. The fact that they are also very nice people is a bonus. - L.T., Yelp
I have been taking art classes all of my life. This past weekend I took a class that is at the "top of my list". I attended an Enameling Intensive at Silvera Jewelry School in Berkeley. The studio was bright, spacious, thoughtful, and had every tool a student would ever need. The owners, Anat and Joe Silvera, were wonderful. They were very concerned about what was being demonstrated. Anat was the primary teacher for this class. Her knowledge, patience, and individual support were all excellent. The presentation could be easily seen by everyone because of their large viewing screen. I could not have had a better experience. - P.G., Yelp
"I have immensely enjoyed all of the several workshops I have taken with Joe Silvera - including both in-person (pre-covid) and virtual classes. He is an excellent teacher because he is patient, explains things clearly with helpful PDF guides and is always available for questions or troubleshooting. I can't wait to get back to the Berkeley studio, especially for the engraving workshop in the Fall." - Sally Semegen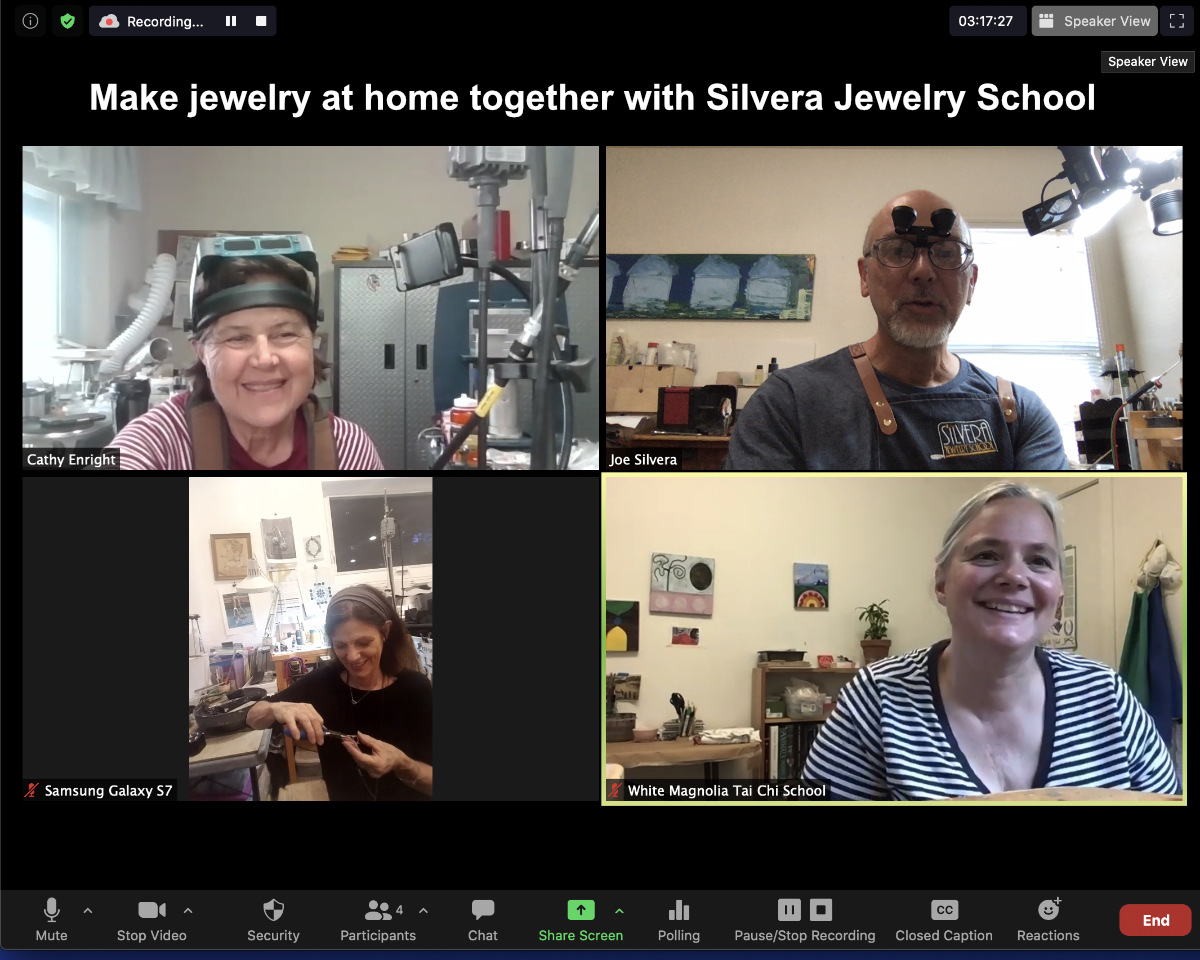 Online Classes
"I have taken 15 classes during the pandemic from Silvera Jewelry School. Jenn and Joe are fantastic teachers. I was an experienced hobbyist, with these classes I have learned new and improved my skills. I highly recommend Jenn's history classes, they are fascinating, and build skills along with expanding my scope of design." - Diane Davies
"I did not know what my reaction would be to an online class. The class was wonderful. All questions were answered in a supportive, patient and affirming manner. Class camaraderie evolved. Online classes allow for people to take them without traveling, a plus. Kudos to the staff at Silvera for the impressive work they have put in quickly to create a learning environment that does not cut corners or leave students wishing for something." - Marian R.
"The online class with Jenn Parnell [Cage Settings] was so informative and I am able to go back and watch the classes multiple times. You have an incredibly talented teacher in Jenn. I plan to take more online classes in the future if you continue to offer them." - Barbara F.
"Although I have one day to go, I have been taking my first zoom class [Enameling - Painterly Effects] with the Silvera Jewelry School featuring the teacher, Gabrielle Castonguay. Frankly I was a little worried about taking a Zoom class. Now I am a convert. This class has been wonderful, personable, and educational. I am learning so much. The kit of materials had everything I needed. Taking a class in the comfort of my own studio works! I will certainly consider zoom classes in the future. There's an ease to exploring and learning new techniques in this fashion that I hadn't expected. Silver Jewelry School you've done it again! I'm a BIG fan." - Vicki B.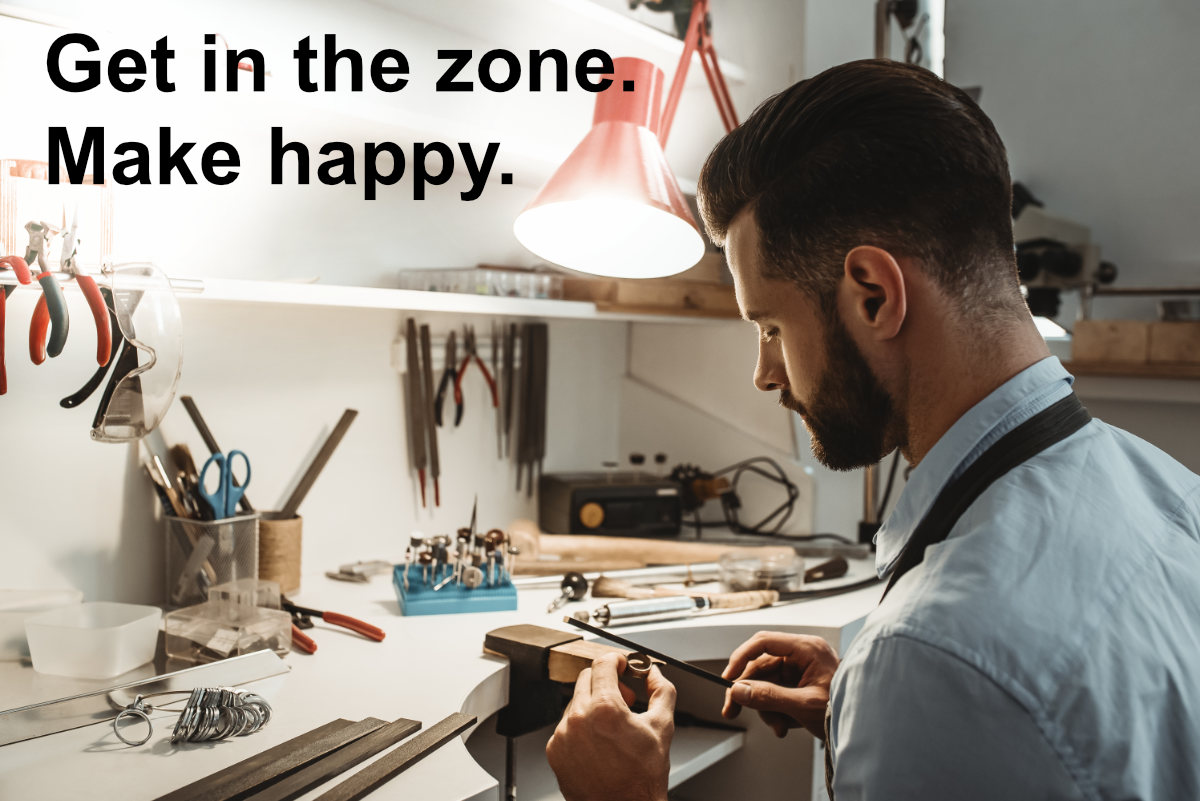 "I loved my online class [Patinas: Coloring on Metal] for many reasons: the teacher was a great facilitator, she thoroughly researched the subject matter and really knew her stuff, and she did good demonstrations and answered all our questions; the class size was small so we all got all the help and assistance we needed; there was work time during the class and time between classes to complete assignments; a LOT of material was covered so I feel I know a ton of information about patinas now; and living in MI it's great to be able to take one of your classes. Also Jenn was able to navigate all the online class technologies quite well and I felt like I got as much from the online class experience as I would have by attending an in-person class."
- Janet R.
"I love taking online classes at Silvera. I have taken two metal clay classes with Arlene Mornick and I feel that I have gotten clear instruction via Zoom on them both. Plus the Zoom office hours that Arlene offers in addition to the class round out the experience nicely. The only difference between online and in person at Silvera is that you will need to buy tools right away rather than trying out the technique first with tools provided by Silvera. But, I was pretty committed to pursuing this hobby seriously, so it worked out well for me. I really like being able to take the class in the safety and comfort of my own home. Although I do look forward to the day that I can meet Arlene and Joe in person!" - Tienne L.
"I took the online polishing class [Polish and Finish] and loved it. I sat in a lounge outside and watched the demo. Joe is a great teacher and very comfortable with the technology. The demo and questions took the 2 hour time limit. The next morning I used the polishing materials sent in the kit and accomplished lots of backup work. I am looking forward to the second session. I was so impressed I signed up for another class." - Diane D.
"I really enjoyed the online class I took, Celtic Jewelry with Jenn Parnell. The format of lecture, demo, then some work time was a great way for me to learn, and I also really liked having the class at my own bench at home. I felt like I had all the time I needed to work on my projects and really focus in on all of the detail work I wanted. Plus Jenn was responsive throughout the week, being available by phone, email, and in her video office hours, so I felt fully supported in working at home. And on top of that, since all the lessons were recorded, I could go back and watch through anything I needed!" - Tori P.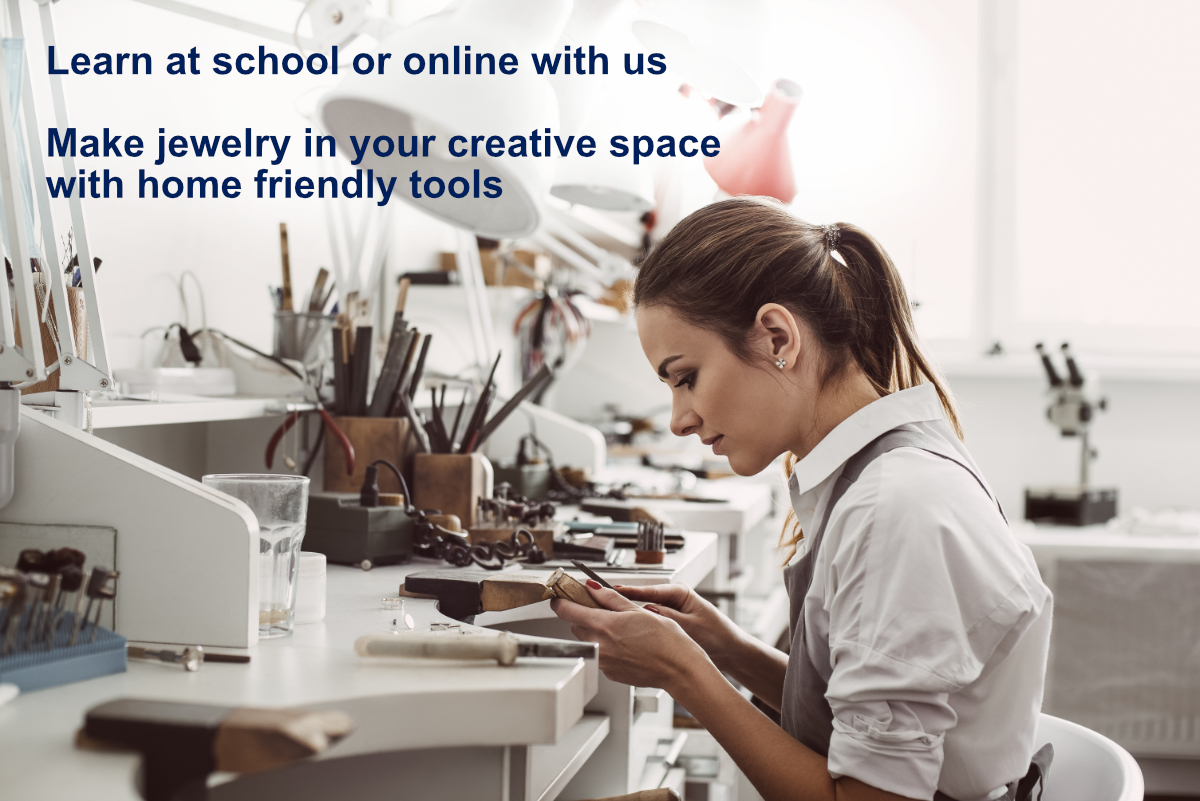 "The online classes are fun and easy to do in my own garage studio. At first, I thought it would be challenging to not have access to all of the school's great materials and equipment. But I have signed up for 3 enameling classes and 1 polishing class so far. With each class, I was sent a complete kit full of tools, enamels and other materials used in the class. Also, there are super clear handouts and instructions about the class schedule and the techniques taught in the class. The Silvera Jewelry School has set up cameras on Zoom so the demos can be viewed clearly down to the minute details. The class schedule provided space during class time to practice and complete the projects and the teachers were always available to answer questions. The teachers even have office hours outside of the regular class times to provide feedback and instruction. Joe and Anat Silvera, the owners of the school, have done it again! They have created a fabulous and very effective venue for learning how to make jewelry and I can now make more jewelry from my own studio." - Cynthia S.
"This is really the only affordable way I can take so many jewelry classes as the cost of flights and hotels really make it extremely difficult. The classes still provide the great instruction / viewing during demos I would get for in person classes and I can still ask questions. It also has the benefit of reviewing demos later which I have found myself doing on occasions as an added benefit I wouldn't get with in-person classes. Thanks and even though you will at some point open back up your class studio, please consider keeping the online classes as well." - Joe F.
"I was a total skeptic about taking an online class, but now I'm a convert. I love traveling to attend metalsmithing and enameling classes, and I love the access to great studios and tools, the direct contact with the instructor, the camaraderie, and the chance to learn from everyone teaching and taking the class. In fact, one of the reasons I retired last year was so I'd have more time to take classes. The online class with Gabrielle Castonguay was truly outstanding.
She and Anat used the Zoom set-up in skillful ways that allowed everyone to see exactly what was going on, to have close one-on-one conversations with Gabrielle, and to see the work others were doing. One drawback I anticipated turned out to be a bonus. I do not have a real home studio in my condo and had to patch together space and equipment, none of it ideal. As it turned out, I felt as if two experts - Gabrielle and Anat - joined me in my home and walked me through every challenge as it arose.
And interestingly enough, everyone in the class, including proficient enamelists, commented that the Zoom class helped push them into using what they had learned in other classes in their own home studios. It was a great experience." - Mary B.
"There are so many terrific things about the online class option at Silvera that it is hard to list them all! Silvera's online classes offer high-quality demos and instruction, and detailed handouts and supply lists. Work sessions during class are a great way to learn by applying techniques from the demos right away. It is easy to ask questions in real time during class, and also to follow up with questions during office hours or by reviewing Zoom recordings of the class meeting. I also love the variety of class topics and session lengths, the nifty boxes of class materials arriving in the mail, and the friendly community of other jewelry students!" - Carolyn D.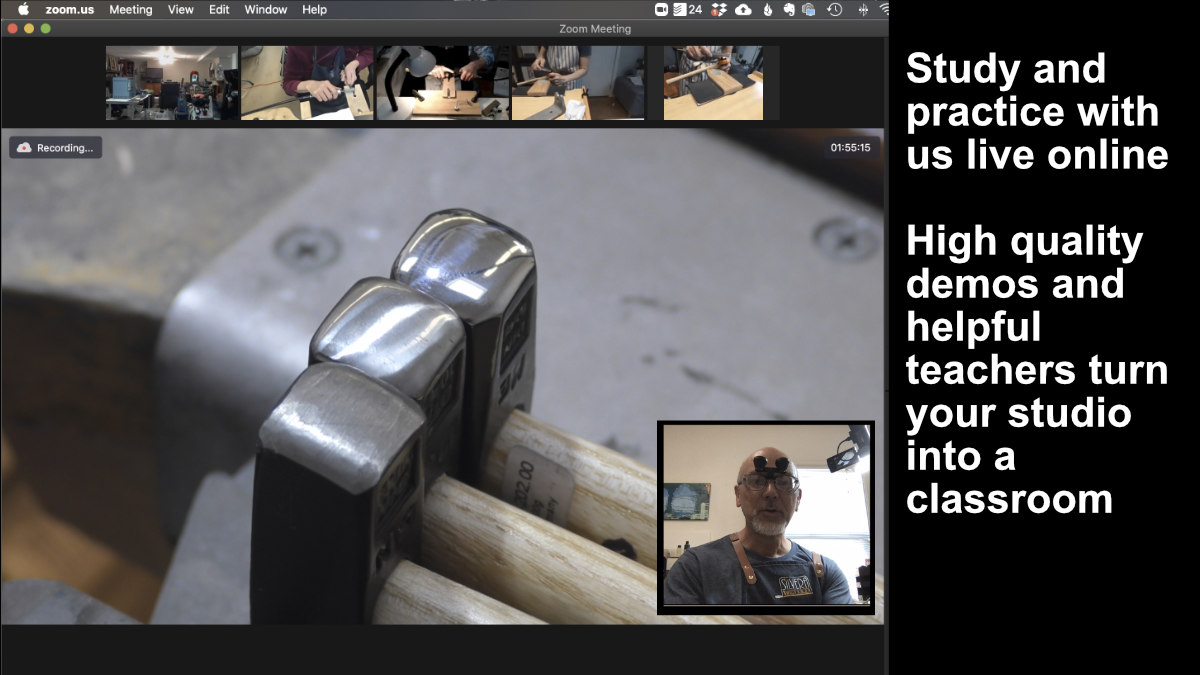 "I have taken several in person classes at Silvera and most recently participated in a virtual class through Zoom. As much as I loved the in person classes, I have to say that the online class has helped me take my jewelry making to the next level. I was inspired to get my workspace completely outfitted, invested the money I saved from doing the online class in tools and I am now making jewelry at home more than ever. Joe is just as funny, informative and helpful on the Zoom as he is in person. I love having my projects here in my home to pick up and work on between classes. I will absolutely continue to take these virtual classes, they are a great value and you can't beat the commute ;) - Wendy W.
"I've just finished taking two online classes from Silvera Jewelry School: Jewelry 1, and Polishing and Finishing. I've taken several other great in-person classes at Silvera Jewelry School, so I feel I can compare the two class formats.
As much as I love the atmosphere of being in the classroom, I am really, really enjoying the online classes!!! There is NO difference in quality. It is the same excellent teaching: Joe is very patient, extremely knowledgeable, and great at communicating. His demonstrations are well-organized, the class flow is logical and paced just right, and his use of technology (e.g., multiple camera angles and micro-camera views) completely supports the class objectives. The thorough handouts are very easy to read and well-illustrated. Students get a lot of individual attention and help that is tailored to their own projects. Joe is extremely generous with his expertise. You can tell he really cares about our learning. I couldn't wish for a better online class experience.
In addition, there are many benefits to taking online classes. Here are a few: have a much wider choice of classes! I don't live near Berkeley, and taking an in-person class involves a lot of exhausting travel and disruption to my schedule. But with online classes, I don't have those problems!!! I like the comfort of being able to hang out in my own space, which is set up for my specs. Taking a class in my own environment helps me stay focused and increases my confidence in my skills. I can look at the online class recordings whenever I want. That means I can concentrate more on my project during class and not worry about missing a juicy tidbit of knowledge. Taking a class that meets for fewer hours at a time, over several weeks, means I don't fizzle out and get tired. And, I have more time in between meetings to experiment and repair mistakes. This makes the experience more fun!!! - Claudia L.
"The online Silvera classes are excellent! They are well thought out and perfectly suited to the home studio. The demos are very informative and it's easy to ask questions and get instructor feedback. I have taken classes with Joe and Jen, who are both incredibly experienced, knowledgeable, and fun. I feel like I have learned a lot and with all the unique offerings, I look forward to taking more online classes!" - Cathy W.
"The materials kits I've received for the first 2 classes have been really useful. I already had a lot of the necessary tools, but Jewelry 1 gave me the confidence to try more soldering at home. The Polish and Finish class definitely made my pieces look nicer. Some pieces I thought were finished got a much-appreciated shiny treatment!" - Lydia C.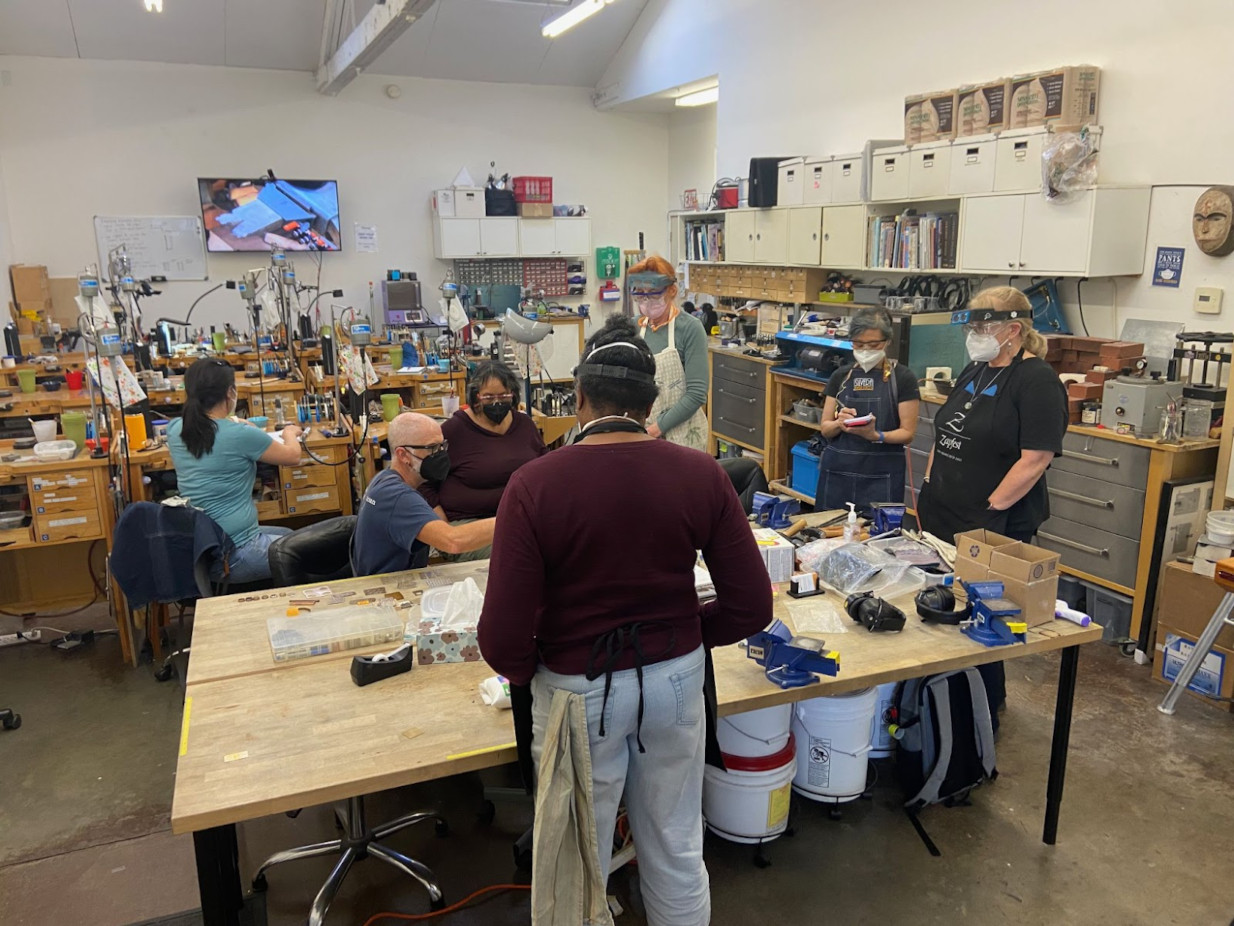 "I loved the online Electrolytic Etching class taught by Jenn Parnell. Not only because it was fun and experimental, the online flexibility allowed me to watch the recorded sessions (available 24 hours after each class) and participate at my own pace the following days, because I wasn't available during the scheduled class time. The recorded classes totally opens up possibilities for me." - Pamela S.
"I have really enjoyed my online classes. I have taken many classes at Silvera Jewelry School and have really appreciated having the new online option. It has been very convenient to attend the classes from home without the long commute, and it is great to work in my own home studio while learning.
I have found that the weekly format allowed me to work on each week's skill in more depth and integrate it in to my personal work rather than feeling rushed to "create" on the fly in the limited in class time. Joe is still great at addressing all your questions in class as well as during one-on-one office hours, and being able to access the video of the class is great if you have to miss a session, or just want to go over a demo again.
The materials and tool lists and the included kits that the school sent were well priced, easy to obtain and offered great home studio options while also providing quality tools. Joe also demonstrates and talks about other tool options as well from diy options to professional tools. Online classes are a great option. I can't wait to take more." - Toyoko M.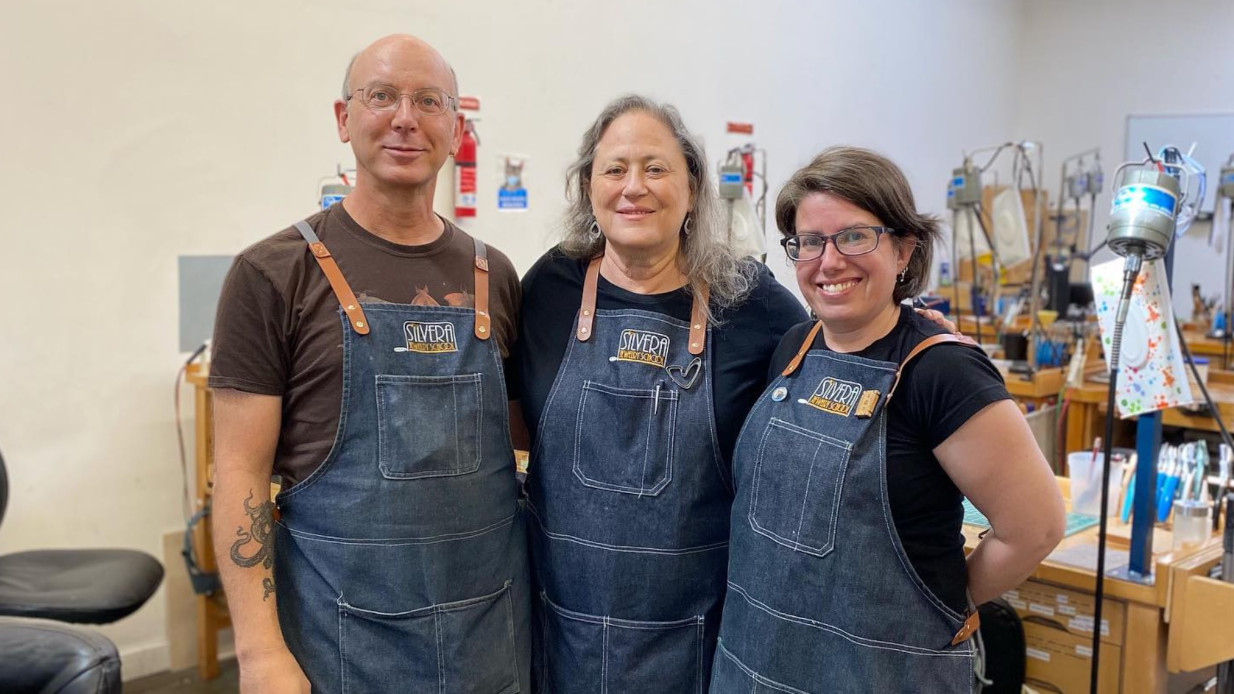 What do our teachers think about teaching online?
"I love teaching and coaching students as they learn new skills and enhance old ones. Until we are able to meet again in person, online classes are a great way for me to continue to help students cultivate their creative expression.
Students enjoy the relaxed atmosphere of working in their own studio space, the time between classes to absorb and practice the skills learned and the ability to check in for advice or questions during office hours." - Arlene Mornick, certified Metal Clay Master and Instructor
"My first hint that teaching online was going to be different was when I noticed that all of my students seemed really calm and relaxed.
Normally during an in-person workshop time is limited and students start to get a little anxious towards the end of class, and worried about finishing in time. I asked my online students how they felt, and they basicaly said, to paraphrase, we're fine - you have to sign out, but we have everything we need here to continue working as long as we want to! That made me very happy.
Our goal has always been to empower students to be able to make jewelry at home, and to continue their practice outside of classes. Online workshops have done just that!
Seeing so many happy faces on my screen, concentrating on making jewelry, is fantastic for me as an instructor. Plus I get to see the places they've created in their homes, from a kitchen table to their own dedicated studio room. I can tell that it's their special place to express themselves and have fun.
As a teacher, I've been very satisfied with the new online format and the quality of work that the students are producing. I've noticed that they have more time to practice and to make more projects since they are set up to work at home."
- Joe Silvera, Fabrication and Casting Instructor, and co-owner of Silvera Jewelry School
Browse our onsite and online classes