Class Instructor: Anat Silvera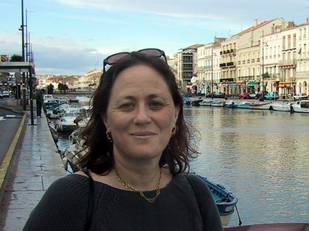 ANAT SILVERA
is one of the founders of Silvera Jewelry School. Shehas loved jewelry since she was a little girl in Los Angeles and she is known for her helpful, wonderfully encouraging and accessible teaching style.
Before and after college she studied with artists and craftsmen, apprenticing as a metalsmith and learning how to create fine beadwork. Anat has exhibited and sold her work all over the U.S., including an exhibit as a featured artist at the Oakland Museum of Art Collector's Gallery. She has taught jewelry in the Bay Area for longer than she wants to admit!
She also has taught in Anchorage, AK, and at national bead festivals, like the Bead & Button Show and BeadFest.

Classes Taught By Anat Silvera:
Alternative Settings for Enamels and Other Objects
Fri. Sep 1, 10AM - 5PM PT (Pacific Time)
Sat. Sep 2, 10AM - 5PM PT (Pacific Time)
Sun. Sep 3, 10AM - 5PM PT (Pacific Time)
Foldforming
Fri. Aug 18, 10AM - 5PM PT (Pacific Time)
Growing Your Voice
Wed. Jun 14, 2PM - 5PM PT (Pacific Time)
Wed. Jun 21, 2PM - 5PM PT (Pacific Time)
Wed. Jun 28, 2PM - 5PM PT (Pacific Time)
Wed. Jul 5, 2PM - 5PM PT (Pacific Time)
Wed. Jul 12, 2PM - 5PM PT (Pacific Time)
Wed. Jul 19, 2PM - 5PM PT (Pacific Time)
Wed. Jul 26, 2PM - 5PM PT (Pacific Time)
Wed. Aug 2, 2PM - 5PM PT (Pacific Time)
Intro to Soldering - Stack Rings
Thu. Jul 6, 10:30AM - 1:30PM PT (Pacific Time)
Intro to Torch Fired Enameling
Fri. Jul 28, 6PM - 9PM PT (Pacific Time)
Setting Stones on Stones
Sat. Jul 15, 10AM - 5PM PT (Pacific Time)
Sun. Jul 16, 10AM - 5PM PT (Pacific Time)
Shanks a Lot - All about Ring Shanks
Thu. Jun 15, 10AM - 1PM PT (Pacific Time)
Thu. Jun 22, 10AM - 1PM PT (Pacific Time)