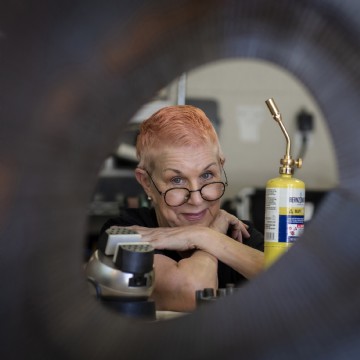 Since 2013 Bette Barnett has devoted her work to exploring and experimenting with gold and steel jewelry. Beginning her jewelry career in 2010, Bette learned basic skills through private and group lessons with seasoned jewelers and teachers. In 2013, Bette began studying the steel/gold processes and continued with advanced workshops with the late Chris Nelson, whose explorations of ancient Japanese techniques were instrumental in launching widespread interest in applying fine gold and silver to iron and other non-precious metals. She has built on those studies by perfecting additional techniques and processes, including Keum Boo and galvanic etching of steel. Currently she is developing processes to fuse fine silver to steel.
Before beginning her career as a jeweler/instructor, Bette gained her teaching credentials through her background as a corporate communication consultant. In her former career, Bette provided extensive training services to the employees of client companies thus fine tuning her instructional capabilities.
Bette participates in a number of art shows annually and her work is shown at Sparks Gallery, a prestigious venue in the Gaslamp District of San Diego. She teaches private lessons in her San Diego studio and offers group lessons throughout the U.S. Her most recent workshops in Long Beach, CA filled so rapidly that additional dates were opened because of the demand.
Classes Taught By Bette Barnett:
No classes scheduled.