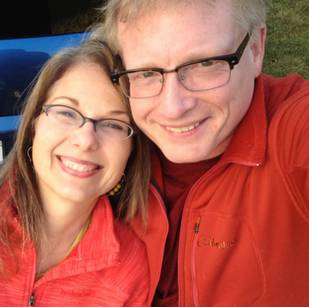 Michael Thee and Mary Wohlgemuth create and sell their jewelry at art shows around the upper Midwest, working from their home studio in Milwaukee. They describe their work as "Everyday Statements" – jewelry that is both unusual and yet a comfortable accessory in daily work and play.
Michael and Mary teach their techniques at the Bead&Button Show in Milwaukee, at jewelry schools like Silvera Jewelry School, and in private lessons at their studio. Michael and Mary also design and sell made-in-Milwaukee tools for metalsmiths, which you can check out at FlowStudioSupply.Etsy.com.
Together Mary and Michael enjoy teaching their approach to designing standout jewelry pieces. As instructors they are focused on helping students develop their eye for design and detail as they develop skills in fabrication and finishing.
Both Mary and Michael have years of graphic design experience, which shows up in the style of jewelry they collaborate on. Michael studied fine arts at the University of Wisconsin–Milwaukee, exploring his love of photography, and later graduated with honors from Northeastern Wisconsin Technical College's jewelry fabrication program. He has been creating and selling jewelry for more than 20 years.
Before partnering with Michael in his jewelry business, Mary acquired and edited how-to books on topics for metalsmiths, working with some of the top instructor/authors in the field, including Joe and Anat Silvera. In addition to a journalism degree, Mary has technical metalwork training and art school in her resume – with the most valuable training coming from the six years she has partnered with Michael, working side by side at their benches.
You can follow Mary & Michael on Instagram: @flowmke for their jewelry portfolio and @flowmke2 for info on their made-in-Milwaukee tools, instruction, and inspiration.
Classes Taught By Michael Thee and Mary Wohlgemuth:
No classes scheduled.