Class Instructor: Alison Antelman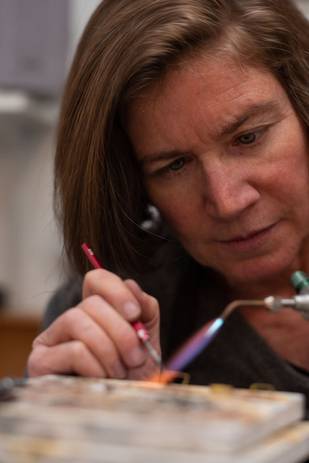 Alison B. Antelman exhibits and sells her work from her studio, galleries and at craft shows nationally. She's participated in gallery exhibitions from Los Angeles to Massachusetts including at Mobilia and Facere Galleries and the Palos Verdes Art Center. She was awarded Honorable Mention at Lakefront Festival of Art at the Milwaukee Art Museum, 2018 CraftBoston Holiday Award of Distinction in Jewelry, she is a 2015 Niche Award Winner, won First Place in the 2014 Charles Lewton Brain Fold-Forming Competition and 2017 & 2015 Best of Jewelry at the Sun Valley Center Arts & Crafts Festival. Her work is published in New Bracelets (due out 2021 Promo press in UK), JCK Magazine, MJSA Journal, Art Jewelry Today 4 and Art Jewelry Today 3 by Schiffer Publishing, Showcase 500 Art Necklaces and 500 Gemstone Jewels by Lark Books, Lapidary Journal's Jewelry Artist magazine and The San Francisco Chronicle. She has written articles for Lapidary Journal, Jewelry Artist and Metalsmith Magazines, given lectures, teaches workshops through art centers and Guilds nationally. She is often found creating one-of-a-kind jewelry in her well-lit studio, The Sawtooth building in Berkeley, California.
Classes Taught By Alison Antelman:
No classes scheduled.