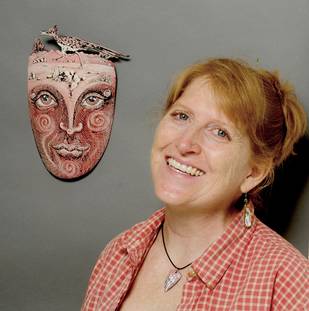 Best known for her award winning outdoor sculptures, Alisa Looney has exhibited in the U.S. and Canada. Her work is in a multitude of private and public collections, including Maryhill Museum of Art in Goldendale, WA, and several U.S. cities in the Northwestern United States. Her enamel on steel sculptures have been exhibited in The Enamelist Society's International Biennial Exhibitions: Alchemy 4 & 5, and published in The Art of Fine Enameling. Alisa expresses her ideas through sculpture, dance, painting and enameling in her Bend, OR, studio that she shares with her husband, woodblock printer Wade Womack. She fell in love with metal arts as a silver smith in her early years, received her BFA in Design from Boise State University in 1983 and began welding in 1998. Alisa returned to Idaho in 2010 to study enameling with her past BSU Professor Emeritus, John Killmaster. This created the opportunity for her to merge metal sculpture and narrative imagery into what she considers her most precious work to date. With John's blessing, Alisa teaches these enameling techniques in her studio and is currently developing online classes for enamellists near and far. https://alisalooney.com
Classes Taught By Alisa Looney:
No classes scheduled.