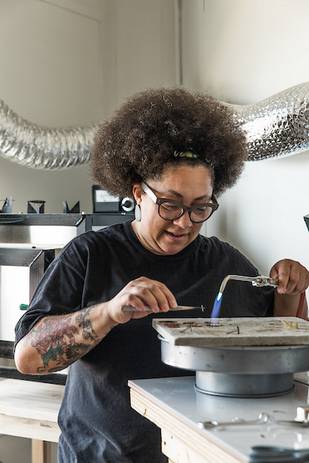 Tanya Crane is a Southern California native living and working in Boston, Massachusetts. She is a Professor of the Practice in Metals at the School Museum of Fine Arts at Tufts. Crane's work is framed within a dual existence of prejudice and privilege having adapted to life amongst family in both the white suburbs and the urban center of South Central, Los Angeles. Craft has become a conduit between these two worlds and has provided me the framework in which my current work is centered. Crane's work embodies the many layers of human existence. These include history, race, class and culture. Coming from the perspective of an African American woman, she uses community and inclusiveness as a magnetic beacon to diversify and expand ideas, understandings and codifications.
Crane was the , the 2017 recipient of the Society of Arts and Crafts Artist Award, 2018 SNAG Emerging Artist selected to present at SOFA Chicago. Residencies include the Pentaculum Artist Residency at Arrowmont School of Crafts, the Smitten Forum Metalsmithing Residency at Ghost Ranch New Mexico and the Haystack Mountain School Artist Residency. She exhibited her work in a solo exhibition, Tributaries: Polarity, Exposing the Tensity, at the National Ornamental Metal Museum in Memphis, Tennessee, and her work is in the collection of the Stewart Program for Modern Design in Montreal, Canada and the Metal Museum in Memphis, Tennessee.
Classes Taught By Tanya Crane:
No classes scheduled.