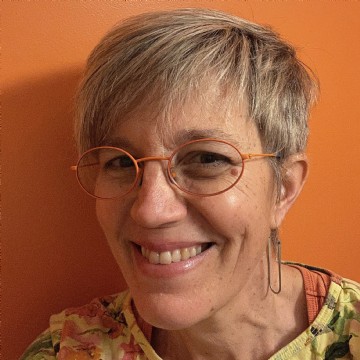 Bonnie Bishoff has been a collaborative artist with her partner J.M. Syron for 34 years. She started as a furniture maker, exploring the use of polymer as a decorative surface using millifiori techniques to create highly detailed veneers. She now makes larger sculptural wall pieces and jewelry.
Bonnie has exhibited at a wide range of venues, both galleries and fine craft shows, nationally and overseas, including the Smithsonian and Philadelphia Museum of Art. Their work has been exhibited at museums including the Peabody Essex, Museum of Art + Design in New York, and their work is part of the permanent collection of the Racine Art Museum.
Bonnie has been teaching and demonstrating about her polymer techniques for over 30 years to beginners and experts at local and international guilds, conferences, and the Haystack School of Craft.
Classes Taught By Bonnie Bishoff:
Beginning Cane Techniques with Polymer Clay: Pattern & Color with Bonnie Bishoff
Sat. Nov 4, 10AM - 1:30PM PT (Pacific Time)
Sat. Nov 11, 10AM - 1:30PM PT (Pacific Time)
Polymer Clay Luminosity: Introduction to Color Blends
Mon. Dec 4, 2:30PM - 6PM PT (Pacific Time)
Mon. Dec 11, 2:30PM - 6PM PT (Pacific Time)
Polymer Clay Marquetry: Detail and Design
Tue. Jan 9, 2:30PM - 6PM PT (Pacific Time)
Tue. Jan 16, 2:30PM - 6PM PT (Pacific Time)