Class Instructor: Janice Peacock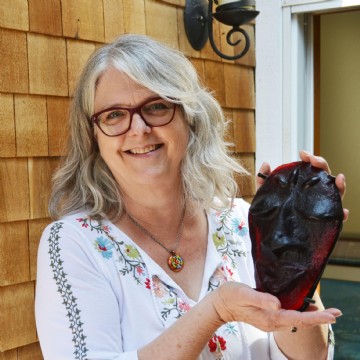 Janice Peacock has been flameworking glass since 1992, and specializes in sculptural beads that look ancient. In 2011, she was a Visiting Artist at the Museum of Glass in Tacoma, WA where she collaborated with its hot shop team to make large versions of her small work. Janice has exhibited her work both nationally and internationally. Her beads and jewelry have been featured in many glass publications and exhibition catalogs. Her work is in the permanent collections of the Tacoma Museum of Glass and the Corning Museum of Glass. In recent years, she has turned her focus toward creating micromosaic glass jewelry, combining her love of glass and jewelry.
Janice has taught glass beadmaking at private studios and non-profit art programs across the US for over 20 years. She is also the author of the Glass Bead Mystery series and the Ruby Shaw mysteries. Janice lives in the San Francisco Bay Area with her husband, Jeff, two cats, and an enormous Great Pyrenees dog.
Classes Taught By Janice Peacock:
Round Rose Micromosaic Pendant
Fri. Nov 17, 10AM - 1:30PM PT (Pacific Time)