One factor that really influences prices is the number of copies to be made of a model. Models that have to be reproduced hundreds of times have less margin for defects, because those defects will be reproduced over and over again with each injection of the mold and cost labor to repair repetitively. So the wax modeler has to spend more time with the model and hold it to higher standards to save money on production.
Your price includes the wax carving, design consultation and review, casting and polishing of the prototype. What you receive are sterling silver prototypes of your models ready for the caster.
I think that part of my job is to help my clients to produce work that is forgiving and not as demanding of the production process; work that is friendly to every step of casting, from wax injection to mass finishing. The cost of a wax model sometimes can appear high, but if you divide the cost by the number of copies you expect to make, the price is more reasonable. Also, the model is permanent and can be molded over and over again when new molds are necessary.
Anyway, with that in mind, here's the price list. Wax Model Rates and Policies: Wax model quotes can be provided by the hour or by the bid. Large jobs (multiple designs) may be discounted, depending on the series.
If no drawing or design is provided, charges begin with the creation of the artwork.
Generally, I ask for a deposit or retainer to start work on a job, before artwork or a model are rendered. The balance of the amount owed is due before receipt of the finished models.
Charges due on completion include the amount quoted for the wax model, plus expenses for shipping, the weight of metal used and time to cast and polish the finished model. Casting and polishing are included in the quote. Shipping and metal charges appear separately on the invoice.
Rush or emergency jobs that need to be bumped ahead of other clients or require extended hours are charged a surcharge, usually $25 per model.
Satisfaction Guaranteed
I will do everything I can to provide my clients with a finished model that meets or exceeds their expectations and that provides the best reproductions possible for the design. If a model is not to your satisfaction, I will adjust or re-work the model. Sometimes, however, it can happen that a designer and a wax carver can't agree on a satisfactory job, and a return is necessary. This actually has never happened, but if it does at some point, I'd like it to be clear that I can refund up to 75% of the amount for the model, upon return of the prototype or wax model, and any artwork, along with any molds made, and provided that no other molds or copies were made and retained by the client.
Sample Prices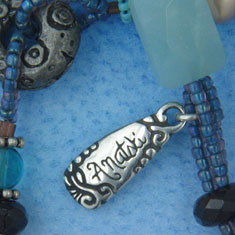 Small logo charm tag for Anatski, as shown in the photo to the left. Sterling silver.

$300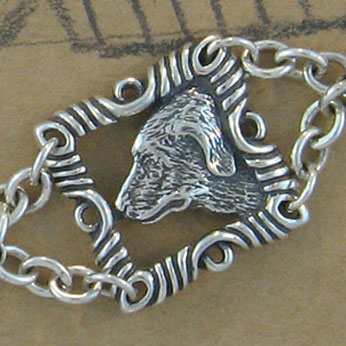 Framed charm of a labrador retriever, with multiple places to connect jump rings, etc. Sterling silver

$424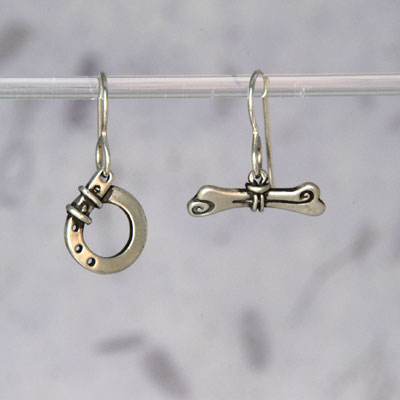 Simple charms or clasps like this dog bone and collar toggle set (shown as earrings), or plant forms like twigs and branches.

$170
How to get a quote
Use the form online at my website to send in a quote request for your job. The form will ask you for some helpful information. Usually I will call to confirm and get more information to give you the best quote possible. You are invited to email pics of your design to my address.
Your design is confidential and safe
Every step of your design is confidential and is never shared with anyone else. Jewelry is a competitive world. Unscrupulous jewelers will buy and mold your work and make money on it, without a care about legalities or even being caught. Unfortunately, court is expensive and slow to prosecute copyright offenders. Your wax carver and caster should be selected not only for the quality of their work, but also their confidentiality. I strictly protect your work and do not share your ideas with anyone else.