Class Instructor: Jenn Parnell Kirkpatrick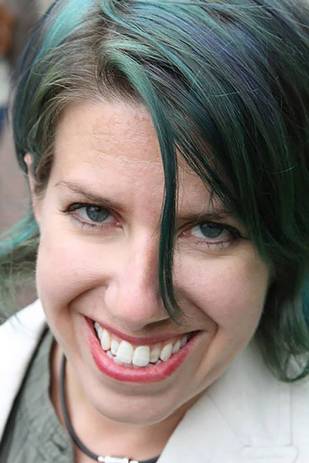 Jenn Parnell Kirkpatrick graduated from the Rhode Island School of Design (RISD) in 1999 with her BFA in Jewelry and Metalsmithing. In 2010 she received her MFA in Studio Art (Metals and Jewelry concentration) from Towson University. She founded Jenn Parnell Designs in 2000. Her work has been shown in national and international galleries, art shows and exhibition throughout the US, and published in several books. Jenn has been teaching all levels of jewelry classes since 2004 at the Baltimore Jewelry Center, MICA, and the Corcoran College of Art. Jen joined the team at SIlvera Jewelry School in 2019.
Jenn creates pieces based on organic and biological patterning and forms. By using a variety of techniques, she creates sculptural, colorful, and intricate pieces that are interesting both worn and off the body. Intrigued by the fluidity of the metal when hammers are applied, she enjoys stretching and reshaping the metal into her vision. Her jewelry is expressive and unique, at the same time very contemporary and retaining the wearability inherent in the definition of jewelry. Each piece involves exploration to make, and she hopes that those who wear it experience that same joy and discovery each time they put the work on.
Classes Taught By Jenn Parnell Kirkpatrick:
American Modernist Jewelry
Sat. Dec 9, 10AM - 5PM PT (Pacific Time)
Sun. Dec 10, 10AM - 5PM PT (Pacific Time)
Anticlastic Jewelry
Sat. Mar 16, 10AM - 5PM PT (Pacific Time)
Sun. Mar 17, 10AM - 5PM PT (Pacific Time)
Cage Settings
Sat. Jan 20, 10AM - 5PM PT (Pacific Time)
Crown Settings
Sun. Jan 21, 10AM - 5PM PT (Pacific Time)
Enameling 1 - Basics
Sat. Feb 3, 10AM - 5PM PT (Pacific Time)
Sun. Feb 4, 10AM - 5PM PT (Pacific Time)
Enameling: Champleve
Tue. Dec 12, 10AM - 1PM PT (Pacific Time)
Tue. Dec 19, 10AM - 1PM PT (Pacific Time)
Enameling: Plique-a-jour
Tue. Jan 9, 10AM - 1PM PT (Pacific Time)
Tue. Jan 16, 10AM - 1PM PT (Pacific Time)
Tue. Jan 23, 10AM - 1PM PT (Pacific Time)
Tue. Jan 30, 10AM - 1PM PT (Pacific Time)
Tue. Feb 6, 10AM - 1PM PT (Pacific Time)
Tue. Feb 13, 10AM - 1PM PT (Pacific Time)
Japanese Metalworking
Wed. Jan 10, 2PM - 5PM PT (Pacific Time)
Wed. Jan 17, 2PM - 5PM PT (Pacific Time)
Wed. Jan 24, 2PM - 5PM PT (Pacific Time)
Wed. Feb 7, 2PM - 5PM PT (Pacific Time)
Wed. Feb 14, 2PM - 5PM PT (Pacific Time)
Wed. Feb 21, 2PM - 5PM PT (Pacific Time)
Jewelry 1 - Basics
Wed. Jan 10, 10AM - 1PM PT (Pacific Time)
Wed. Jan 17, 10AM - 1PM PT (Pacific Time)
Wed. Jan 24, 10AM - 1PM PT (Pacific Time)
Wed. Jan 31, 10AM - 1PM PT (Pacific Time)
Sat. Feb 10, 10AM - 5PM PT (Pacific Time)
Sun. Feb 11, 10AM - 5PM PT (Pacific Time)
Wed. Mar 6, 6PM - 9PM PT (Pacific Time)
Wed. Mar 13, 6PM - 9PM PT (Pacific Time)
Wed. Mar 20, 6PM - 9PM PT (Pacific Time)
Wed. Mar 27, 6PM - 9PM PT (Pacific Time)
Jewelry 2 - Chain and Prong Setting
Wed. Feb 7, 10AM - 1PM PT (Pacific Time)
Wed. Feb 14, 10AM - 1PM PT (Pacific Time)
Wed. Feb 21, 10AM - 1PM PT (Pacific Time)
Wed. Feb 28, 10AM - 1PM PT (Pacific Time)
Sat. Mar 2, 10AM - 5PM PT (Pacific Time)
Sun. Mar 3, 10AM - 5PM PT (Pacific Time)
Wed. Apr 3, 6PM - 9PM PT (Pacific Time)
Wed. Apr 10, 6PM - 9PM PT (Pacific Time)
Wed. Apr 17, 6PM - 9PM PT (Pacific Time)
Wed. Apr 24, 6PM - 9PM PT (Pacific Time)
Jewelry 3 - Bezels, Borders and Overlay
Thu. Dec 7, 6:30PM - 9:30PM PT (Pacific Time)
Wed. Mar 6, 10AM - 1PM PT (Pacific Time)
Wed. Mar 13, 10AM - 1PM PT (Pacific Time)
Wed. Mar 20, 10AM - 1PM PT (Pacific Time)
Wed. Mar 27, 10AM - 1PM PT (Pacific Time)
Wed. Apr 3, 10AM - 1PM PT (Pacific Time)
Wed. Apr 10, 10AM - 1PM PT (Pacific Time)
Jewelry 4 - Ingots, Forging and Hollow Forms
Thu. Jan 18, 6PM - 9PM PT (Pacific Time)
Thu. Jan 25, 6PM - 9PM PT (Pacific Time)
Thu. Feb 1, 6PM - 9PM PT (Pacific Time)
Thu. Feb 8, 6PM - 9PM PT (Pacific Time)
Wed. Apr 17, 10AM - 1PM PT (Pacific Time)
Wed. Apr 24, 10AM - 1PM PT (Pacific Time)
Wed. May 1, 10AM - 1PM PT (Pacific Time)
Wed. May 8, 10AM - 1PM PT (Pacific Time)
Starting your Jewelry Business: Photography and Social Media
Tue. Jan 9, 6PM - 9PM PT (Pacific Time)
Tue. Jan 16, 6PM - 9PM PT (Pacific Time)
Tue. Jan 23, 6PM - 9PM PT (Pacific Time)
Tue. Jan 30, 6PM - 9PM PT (Pacific Time)
Starting your Jewelry Business: Producing a Line
Tue. Dec 12, 6PM - 9PM PT (Pacific Time)
Tue. Dec 19, 6PM - 9PM PT (Pacific Time)
Stone Setting: Bead Setting
Tue. Feb 6, 6PM - 9PM PT (Pacific Time)
Tue. Feb 13, 6PM - 9PM PT (Pacific Time)
Tue. Feb 20, 6PM - 9PM PT (Pacific Time)
Tue. Feb 27, 6PM - 9PM PT (Pacific Time)