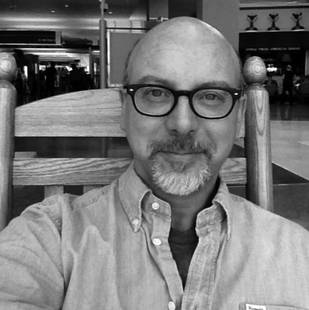 JOE SILVERA and his wife Anat are founders of the Silvera Jewelry School. His classes provide a great foundation in the fundamental skills of jewelry, mixed with laughter and creativity.
Originally a fine arts major, Joe switched majors during college and graduated with a BFA in Metalsmithing in 1991. He then became an apprentice and went to work in the jewelry trade, first as a goldsmith, then as a wax carver. He sold his jewelry for decades at craft shows, galleries and shops. Joe has over 30 years of jewelry and teaching experience.
He is the author of the jewelry books, Soldering Made Simple: Easy Techniques for the Kitchen-Table Jeweler, which has sold over 45,000 copies, and Soldering Beyond the Basics.
Joe has also contributed articles to jewelry magazines and is a presenter on several jewelry dvds and online videos, including Soldering Made Simple and Soldering Beyond the Basics. Joe has been a guest on television shows like Beads, Baubles and Jewels and Jewel School.
His favorite technique is lost wax casting, with which he likes to carve detailed jewelry scale sculptures of animals, flowers and more.
Classes Taught By Joe Silvera:
Intro to Soldering - Stack Rings
Fri. Nov 3, 6:30PM - 9:30PM PT (Pacific Time)
Jewelry 1 - Basics
Sat. Nov 18, 10AM - 5PM PT (Pacific Time)
Sun. Nov 19, 10AM - 5PM PT (Pacific Time)
Wed. Jan 10, 10AM - 1PM PT (Pacific Time)
Wed. Jan 17, 10AM - 1PM PT (Pacific Time)
Wed. Jan 24, 10AM - 1PM PT (Pacific Time)
Wed. Jan 31, 10AM - 1PM PT (Pacific Time)
Jewelry 2 - Chain and Prong Setting
Wed. Feb 7, 10AM - 1PM PT (Pacific Time)
Wed. Feb 14, 10AM - 1PM PT (Pacific Time)
Wed. Feb 21, 10AM - 1PM PT (Pacific Time)
Wed. Feb 28, 10AM - 1PM PT (Pacific Time)
Jewelry 3 - Bezels, Borders and Overlay
Tue. Oct 3, 10AM - 1PM PT (Pacific Time)
Tue. Oct 10, 10AM - 1PM PT (Pacific Time)
Tue. Oct 17, 10AM - 1PM PT (Pacific Time)
Thu. Oct 26, 6:30PM - 9:30PM PT (Pacific Time)
Thu. Nov 2, 6:30PM - 9:30PM PT (Pacific Time)
Thu. Nov 9, 6:30PM - 9:30PM PT (Pacific Time)
Thu. Nov 16, 6:30PM - 9:30PM PT (Pacific Time)
Thu. Nov 30, 6:30PM - 9:30PM PT (Pacific Time)
Thu. Dec 7, 6:30PM - 9:30PM PT (Pacific Time)
Jewelry 4 - Ingots, Forging and Hollow Forms
Tue. Oct 31, 10AM - 1PM PT (Pacific Time)
Tue. Nov 7, 10AM - 1PM PT (Pacific Time)
Tue. Nov 14, 10AM - 1PM PT (Pacific Time)
Tue. Nov 21, 10AM - 1PM PT (Pacific Time)
Lost Wax Casting 1 - Basics
Fri. Dec 15, 10AM - 5PM PT (Pacific Time)
Sat. Dec 16, 10AM - 5PM PT (Pacific Time)
Sun. Dec 17, 10AM - 5PM PT (Pacific Time)
Lost Wax Casting 3 - Stone Setting in Wax
Fri. Oct 27, 10AM - 5PM PT (Pacific Time)
Sat. Oct 28, 10AM - 5PM PT (Pacific Time)
Sun. Oct 29, 10AM - 5PM PT (Pacific Time)
Stone Setting: Tube, Flush and Prong
Fri. Nov 24, 10AM - 5PM PT (Pacific Time)
Sat. Nov 25, 10AM - 5PM PT (Pacific Time)
Sun. Nov 26, 10AM - 5PM PT (Pacific Time)